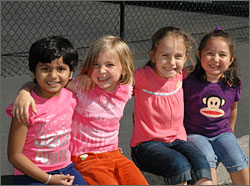 Looking for an excellent preschool, kindergarten or childcare option in Beaverton? At Mayflower Montessori, we are enrolling new students throughout the year, depending on availability.
To start the enrollment process, please contact us to discuss schedules (we have flexible part-time and full-time schedules) and availability. We invite you to visit our school at any time, with or without your child. If desired, you and your child can sit in on classes and observe our school for a day. References are also available upon request.
If you choose to enroll your child and we have an opening that matches your desired schedule, there is a $100 registration fee and some forms you need to fill out. If we do not currently have an opening, we can put your child on our waiting list.
Interested in learning more? Visit our school and see the Montessori Method in action in our classrooms.